As a dentist, your e-mail is probably bombarded every day with various online marketing pitches. Everything from web design to e-mail marketing and copywriting—you name it, it's there.
However, did you notice that neither of these sales letters tells you the most important thing, which is what your return on investment (ROI) will be, or how much money you can make if you invest in their services? They don't, because in most cases, this is difficult to calculate. These online-marketing firms are not willing to go for such a commitment, and even if they do, the ROI doesn't look that good.
On the other hand, there are services like search engine optimization (SEO), which delivers quite predictable results, and we can easily tell what your potential is if you invest in that. Furthermore, SEO is a long-term strategy. This means the ROI doesn't fluctuate month by month. In fact, most of the time, the ROI increases every other month, even if you put the campaign on hold.
This is exactly what we're going to teach you here. We're here to help you form an easy way to estimate how much money you could make as a dentist practitioner if you invest in an SEO service.
How SEO for Dentists Works
It doesn't matter if you have an old dentist practice or are just starting out. In both cases, you wouldn't mind having more new patients, right?
It's certainly a must to be a great dentist, but unfortunately, nowadays, this isn't enough anymore. There is a lot of competition, especially in big cities, so you need to find a way to stand out.
According to a recent Google study, more than 60% of users start searching for local services from their mobile phones. The top 5 results get the most of the visits. In other words, even if you are the best dentist in the world, and a recipient of a Golden Apple award, if you're not part of the top 5 rankings, you won't attract these new users actively searching in Google for a dentist in your area.
This is where SEO comes in.
SEO is a process where your website is optimized for specific keywords. As a result, when a user is searching for a keyword in Google—let's say, for example, pediatric dentist in Singapore—and your website has been optimized, your website will appear higher in rankings. Therefore, it will attract more of these visits.
The benefit of SEO is pretty obvious: higher rankings mean better visibility. This means more potential customers come to your website.
How to Calculate Your ROI
Before you start with any online marketing campaign, you need to calculate your potential ROI. This will give you a larger picture and help you decide whether an online campaign is worth it or not for your practice.
Luckily, SEO is pretty straightforward, and you can easily estimate your ROI for your dentist practice will be if you invest in SEO.
You will need 5 things:
Your keywords
The volume of your keywords
The amount of potential new customers you could get
The cost of the SEO
Your profit per new client
Choosing the right keywords for your dentist practice
Unfortunately, search engines like Google can't understand a website's content, like humans do (at least not yet). Therefore, we need to point out  to these search engines what our website is about by using a specific code. When we do this, when Google crawls out our website, it will know our most important keywords and associate our website with them.
In your case, these keywords should be "your main practice + locality"
For example, if you specialize in cosmetic dentistry and are located in Singapore, your main keyword should be "cosmetic dentist Singapore"
This step is essential, so spend some time and write down 3–4 of your most important keywords.
How many people are searching for your services?
Can you guess how many people in your area are searching for your services?
It's okay, you don't actually need to guess. We have a tool that will show you the exact numbers.
Once you know what your main keyword(s) is, what you want to do is check how many people are actually searching for it. You don't want to optimize your website for a keyword that nobody actually is looking for.
There are a few tools that will show you the volume, but we are going to use SEMRush because of its simplicity.
Let's assume your main service (or the one you are getting the most profit from) is "teeth whitening" and you are located in Singapore.
Go to semrush.com, enter your keyword, and click on "Start now."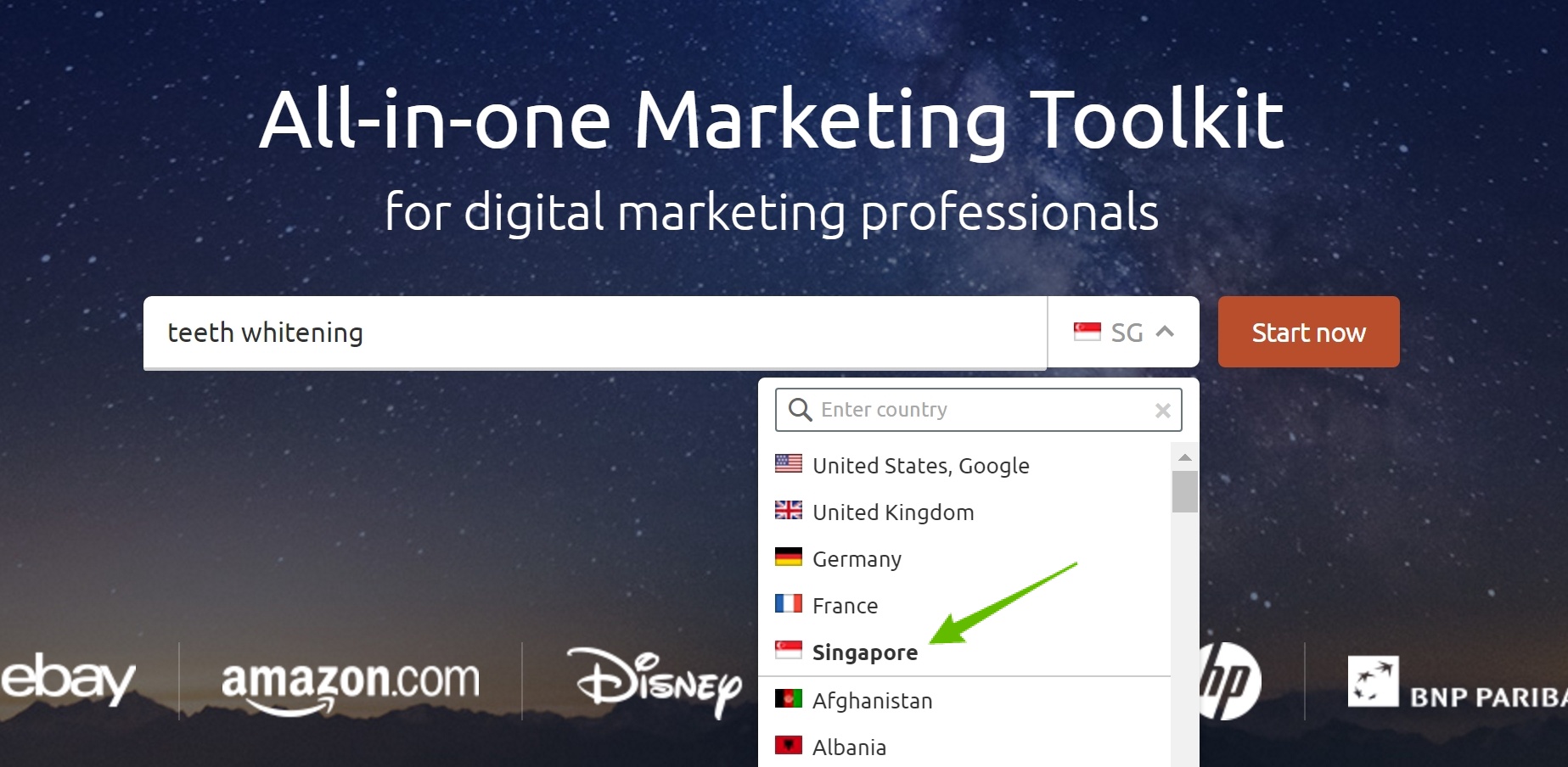 Note: If your locality is a country name, do not include it as part of the keyword. Instead, choose the country from the drop-down menu. That's why we just entered the words "teeth whitening" and omitted name of the country of origin.
However, if you want to focus on specific regions and cities, you should include them in your search. For example, "child dentist near Orchard" works okay.
Moving forward, scroll down to the Phrase Match Keywords section:
Here you can see your keyword, its variations, and the search volume.
Our keyword has a total of volume of 2,230. This means that, that many people are searching for "teeth whitening" in Singapore.
Note: in reality, the volume is a lot higher, because surely there will be more variations of the main keywords. However, we want to make the things simpler and easier for you, hence the example.
How many of these searches can you actually convert into real customers?
If your website has its SEO done right, you will eventually start to rank at the top 5 for your desired keyword.
Let's say your average monthly rank will be 3rd place. The placements at 3rd place usually get about 8% of the traffic. That means 10% of 2,230—or 223 people—will be landing on your website every month.
Remember that these are people actively searching for your service. It's true that some of them will prefer a competitor, or maybe they'll find your price a little high, or maybe they'll find a dentist located closer to their office.
Anyhow, you can agree that you can easily close at least 15% of them. This means having 33 new customers a month.
Final Calculation: What's Your ROI?
At this point, you should already know how many potential new customers you could get. The only missing parts are the cost for the SEO and your profit per new client.
The cost of the SEO depends on your current website condition and the competitiveness of your chosen keyword. However, the average cost is about $800 monthly.
Please note that results from SEO usually come at the 3rd month (link to google statement). That is why SEO programs usually last 7 months.
The average profit per new client also varies a lot; however, for simplicity's sake, let's assume the profit for every new teeth-whitening client is $300.
Here comes the projection month by month:
| | | | | | |
| --- | --- | --- | --- | --- | --- |
| | # New Clients | SEO Cost | Profit / client | Profit | ROI |
| 1st month | 0 | $800 | $300 | -$800 | -100.00% |
| 2nd month | 0 | $800 | $300 | -$800 | -100.00% |
| 3rd month | 8 | $800 | $300 | $1,600 | 200.00% |
| 4th month | 14 | $800 | $300 | $3,400 | 425.00% |
| 5th month | 22 | $800 | $300 | $5,800 | 725.00% |
| 6th month | 33 | $800 | $300 | $9,100 | 1137.50% |
| 7th month | 33 | $800 | $300 | $9,100 | 1137.50% |
As you can see, based on our initial example, the ROI for the 7th month is 489.29%.
Note: We don't include the fact that the long-term value (LTV) of these new users you acquire will be a lot more. The chance they will return for another service or will refer a friend is a lot higher, especially if they linked to your service.
So what's the ROI of your keywords?