Search engine optimization, a.k.a. SEO, is been around for almost 2 decades, but the last few years it started to grow exponentially. Not only that, but also it turned out to be the online marketing strategy that top companies are investing in the most.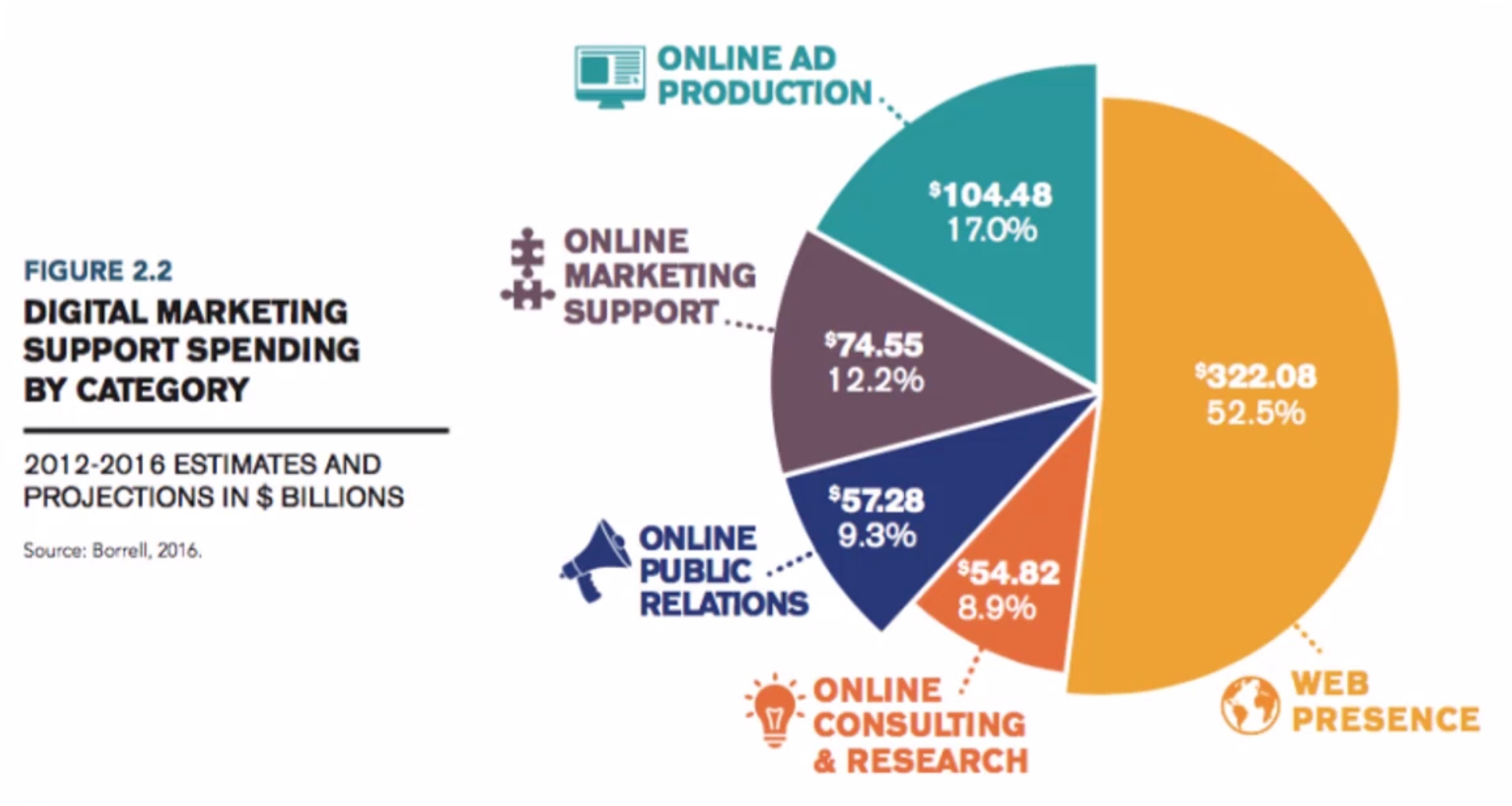 According to this Barell's report, 52.5% of all the marketing budget, or $322 billion, will be invested in web presence, which is SEO-related services.
There are several factors why more and more CEOs and business owners are allocating bigger budgets toward the SEO campaigns:
1. CPC suge. The cost of the CPC (cost per click) advertising is increasing every other year. This is kinda logical. There are more companies doing advertising; therefore, the competition is higher, which affects the bid pricing.
2. Ad blockers. Even if you have the budget for PPC, now there are more than 181 million people using ad blockers. This means there is a chance your target audience won't see your ad. The usage of ad blocker also increases the CPC.
3. Long-term value. Alongside with social media, SEO is probably the only one marketing strategy with a long-term value—that is, if the SEO is done right.
4. More websites. Approximately 74,999 new websites are being created every hour. With so much competition, it's getting very difficult for a business to stand out.
With all these numbers, there is no question why SEO should be your main dental marketing strategy for 2017. But how do you choose the right agency for search engine optimization?
Since the demand is growing, so is the number of companies who are starting to offer SEO services.
Unfortunately, a lot of the agencies overpromise what they can actually deliver. They are taking advantage mostly on the fact that SEO is a bit technical and not so many people have the know-how for it.
Fear not, for we have highlighted the top 10 ways you can spot a fake SEO agency almost right away.
SEO Agency for Dentists: What NOT to Choose
There are tons of SEO agencies out there that promise to do these and that to boost your dental practice, and for the first-time user, this can be confusing and overwhelming. But wait, don't feel that way. It's fairly easy to narrow down your choices on this matter, but first, you need to know what the ideal SEO agency is not.
Be on the lookout when the SEO firm you're looking into tells you these three things:
"We promise to make your website number 1 in Google rankings."
This promise smells good, and with good reason. After all, that's the point of taking on an SEO agency for your dental practice, right, so you pop up first in search engines and new patients flock to you like bees to honey?
Well, yes and no. Yes, that's the goal of you using an SEO agency for dentists, and no, that's not what automatically happens just because you signed up for one.
You see, every SEO company sings that tune. Yup, you read it right: every single one. There are firms that deliver, and there are firms that don't. It's a fact of life, and it's that simple.
"We have more than 200 employees working for us, and we bring in tons of revenue."
How nice. But when it comes to choosing an SEO agency for dentists, company size, employee number, and annual earnings barely make a dent. They amp up the company's image but tell little to nothing about their actual performance.
Please don't think, though, that all large SEO marketing firms don't deliver. They may, or they may not. In the same vein, that guy from across the street who works solo as an SEO marketing expert may give you the results you're after. But then again, maybe he won't.
In dental SEO marketing, bigger isn't always better.
"We rank number 1 in the area for our SEO services."
It's easy to see why you'd be tempted to go for an online marketing firm that tells you this. First, the proof is right there. Second, they're up in the ranks. Third, they did it for their firm, so they can do it for yours too.
Although this might sound logical, the truth is slightly different. Some of the biggest SEO companies are not relying at all on getting customers from SEO, but mostly on referrals. Therefore, they don't see any value of optimizing their website, as they have tons of customers.
Take Bruce Clay, for example. That's one of the world's largest online marketing companies with a yearly revenue of $100 million. Their website is ugly and ranking nowhere, but still, they don't care about it as they are getting tons of new customers anyhow.
What to Look for in an SEO Agency for Dentists
In dental Internet marketing, it's crucial to select an SEO agency for dentists that will garner a positive response to these three questions:
Do they have a consistent track record?
The answer to this question is major. It's easy for an online marketing company to pretend they're reputable and all that, but it would need to bend itself backward to show you consistent results.
Results are hard to falsify. They're there, and people will tell you they're real, that you can count on the agency to deliver its promises.
Don't just rely on what they tell you on their website. Reach out to four or five clients of your preferred SEO agency for dentists, and ask them about said agency's performance. You can find all the proof you need in client testimonials.
Do they offer a host of other SEO-related services?
The right SEO agency for dentists focuses on not only on the bare bones of SEO but also the other areas that surround it. These include your website's appearance and navigation, links, and content.
Furthermore, the right dental SEO company also deals with the websites of other dentists, and this helps them come up with strategies that target your competitors.
Do they care about your goals and your dental practice?
You know an SEO agency for dentists care when they take the time to find out your goals and they also take the time to set out reasonable goals for your dental company.
You know they have your interests in mind when they do away with fluff and extravagance. Next, they lay out goals that seem plain but are realistic and doable in the course of time. Furthermore, they take on an approach that runs on the personal more than the corporate.
Do they offer a realistic timeline in relation to your dental SEO goals?
SEO is not a "See results in an instant" approach in boosting up your dental practice. There are several factors influencing results and ranking: the competition is stiff, more websites are popping up every day, or other firms are developing new strategies.
Therefore, don't be discouraged if your chosen SEO agency for dentists tells you it will take 4 to 12 months before you see SEO results. Maile Ohye, an SEO specialist who used to work at Google, says so herself. Take it from the pros.
In dental SEO marketing, slow and steady wins the race.
An Important Reminder
In your quest for the right SEO agency for dentists, it's easy to get caught up in the middle and lose sight of the goal. Don't let this be the case for your dental practice. Here's a simple reminder you can use to stay on track:
In SEO, there are no secret recipes.
There, it's out. We're not talking about your grandma's cooking here. We're talking about your dental practice, the one you aim to make relevant in 2017.
Slap on the word secret to something, and instantly, that something becomes attractive. This same principle applies to dental SEO agencies. You've likely encountered one that boasts of coming up with top-notch rankings thanks to their "secret SEO techniques."
Sorry, buster, that's not how it works in SEO. It's an open field, a very open one. There are no secrets, no hidden nooks and crannies. So when you meet up with an SEO agency that tells you otherwise, pack up your dental practice bags and run!
In dental SEO marketing, SEO is an open book.
Conclusion
If you want your dental practice to stay relevant, choose with care the right SEO agency for dentists. Apply the tips in this article, and you're sure to find an online marketing agency that fits you best.